One of the tricks to being au courant in any given season, without dropping major bank every three months, is good planning–and that means identifying upcoming trends you're excited about and picking up a piece or two at a time that you can use later to update those necessary, but sometimes ho-hum, basics.
And we know it's hard to think about Fall 2012 fashion when just stepping outside right now makes you wonder if it's possible for a human being to literally melt, so we went ahead and did some legwork for you–here are a few pieces that are worth picking up now and looking fabulous in later.
Fall Pieces You Should Grab Now
Something Red (or Wine, or Oxblood, Or Venetian Red…)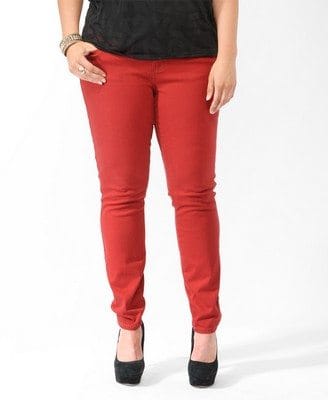 Colored Skinny Jean, $22.80 from Forever 21
Whatever you call it, deep rich red is the hot hue for fall, and color is quite frankly one of the easiest ways to update your wardrobe from season to season. Doing it in an unexpected way, like deep garnet red skinny jeans? Ten thousand fashionista bonus points for you.