Source: Style.com
When you're paying for someone to do your wedding makeup, it can be a little daunting. Whether your best friend is helping you or a professional you met at a bridal show, it's important to be upfront, honest, and well-prepared. Many women are worried about being dubbed bridezilla, but when it comes to wedding makeup, it's really important to speak your mind (in a sweet, polite way of course!). For starters, we're talking about your face. On your wedding day. You have to love the way it looks. And you will if you follow the tips we gathered below.

Preparing Yourself for Wedding Day Makeup
1. Ask Around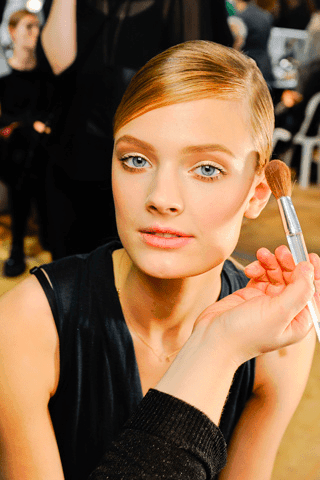 When you were planning other aspects of your wedding, you likely turned to your friends and family for advice. Where did Jane get her dress? Which DJ did Bob and Cindy go with? The same level of inquiry should apply to your makeup. Even if you put on makeup every day, your wedding makeup is special and should be thought about ahead of time. When you ask for recommendations, make sure to ask about a makeup artist's reliability. You want to be confident that they showed up on time to more than one booking, and speak to brides who have used them before. Don't have any chicas who've gotten hitched before you? No worries. Sites like Wedding Wire, which is a Yelp for the wedding industry, can be your bestie throughout the process.