Let's be honest: we often lose sight of the real reasons why we're holiday shopping. We become disconnected from the beauty of finding a special gift for someone we love and turn the process into a to-do list to check off. There have been years that I've tackled my holiday shopping the same way I would a big project at work—just short of the excel spreadsheet (phew!) That's why every year, I make it a point to visit an old world holiday market a.k.a. a Christkindlmarket. They bring me back to the joy of shopping, the coziness of the season and the intricacy of handmade goods. They bring the socialness back to a season that can easily become a ba-humbug charge through malls and parking lots.
Dating back to 1384 in Germany, Christkindlmarkets were like farmer's markets. The locals set up shops and brought their handmade goods to sell in the center of the city. Shoppers then perused the market the entire month of December but not only to shop; they also drop by to eat spiced nuts, bratwurst mit kraut, sweet pretzels and drink hot spiced wine too.
Thankfully, most major cities host holiday markets these days so you're sure to find one near you. If you want the best of the best though, the following 5 really stick true to the roots of Christkindlmarkets and are open a full month:
The Holidays' Top Markets
1. Chirstkindlmarket Chicago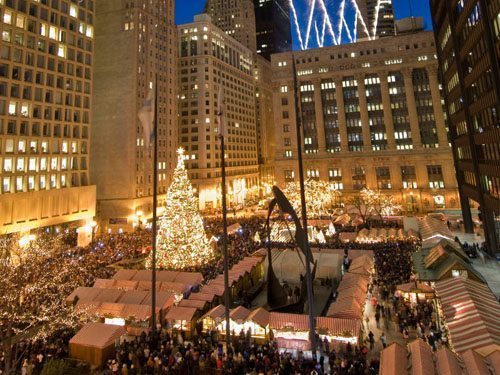 Chirstkindlmarket Chicago is now the largest in the country. Chicagoans look forward to the market's opening day on November 20 until the second it ends on December 24 . Located in Daley Plaza and hosting the city's official Christmas tree, you'll find a labyrinth of wooden huts and European handcrafted gifts. The market has diversified though and now even carries goods from South America. Many workers come in from their home countries specifically to work the market and thus the food is a passport abroad. When your feet can't take it anymore, pop a squat in the biergarten for a hot mulled wine or beer and lose yourself in the polka music and great company.