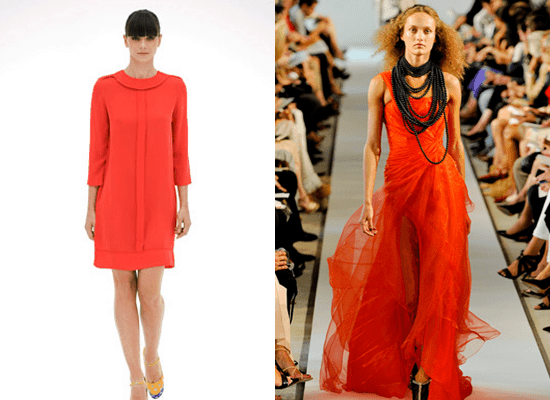 Credit: Victoria by Victoria Beckham Spring 2012/Style.com, Oscar de la Renta Spring 2012/ Style.com
Tomato – This is whole new kind of red. Yes, it is warmer and has more orange undertones, but it also has a commanding presence. Tomato red is to current fashion what ruby red was to the old Hollywood glamor of the forties. It is just as powerful (it's still red, after all), but it's a more modern kind of power. It's less daring and more confident, less bad girl and more powerful woman, less secret mistress and more on-the-cover-of-Forbes CEO. It is understated strength personified or, in this case, color-sonified. And who doesn't want a little more of that in their arsenal, er, we mean closet!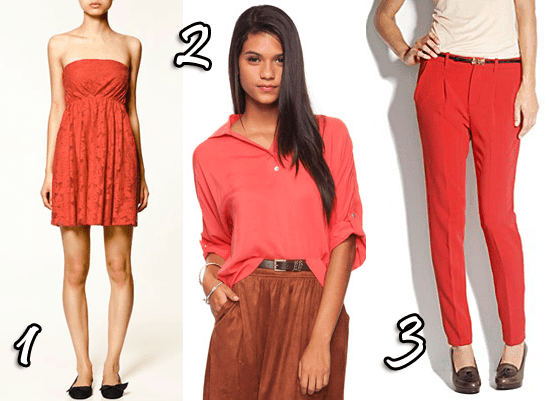 1. Strapless lace dress, $19.99 (down from 59.00) from Zara
2. Oversized blouse, $22.80 from Forever 21
3. Skinny leg trouser, $79.99 (down from $125.00) from Madewell
The best part about this of-the-moment color family is that you are free to wear them as you wish, as to what suits your personality. Wear them all together and make a splash, or pick the one (or two or three) you like the best and assimilate them into your existing wardrobe. Whatever you choose, know this: it can't ever be wrong because, it is what you love. And that is really all that matters.