The following is a guest post from our friends at Lucky.
It's possible that nothing has done more to inspire the wardrobes of today's women than the now ubiquitous street-style blog. Yet it's tough to navigate the endless options on the Web and even tougher to stumble upon a fresh concept in a somewhat oversaturated genre.

Good thing Beach Bum–the just-launched brainchild of Chicago fashion stylists and best buds Liz Klafeta and Annie Bangs–hit the blogosphere at just the right time. When Liz flew to Honolulu to visit Annie on a shoot back in December, the pair sat mesmerized on the sand for days. "We watched this amazing parade of beach fashion unfold before our eyes," says Annie. The two started snapping photos, and Beach Bum, the first blog dedicated strictly to beachwear, went live in April. So who better to share summer must-haves than these two? Here are their sunny-weather picks.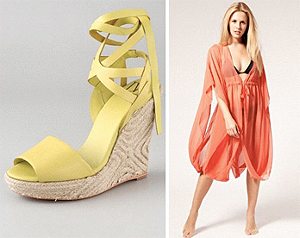 1. Diane von Furstenberg "Pandora" wedge espadrilles, $255, shopbop.com
"Chicago … or Miami? Pose as a native South Beacher and make yourself easier to spot in 4.75-inch raffia wedges." –Liz
2. Asos chiffon kimono-sleeve beach caftan, $62.76, asos.com
"The luxe feel of this Princess Jasmine-esque cover-up belies its affordable price tag." –Liz
3. Kate Spade New York "Tropica Jezibel" tote, $275, katespade.com
"In a sea of neutrals, donning neon or toting a flamingo-emblazoned bag is a surefire way to get noticed. Lighten up at the shore with this whimsical statement piece." –Liz
4. Ray-Ban swirl-print "Wayfarer" sunglasses, $145,bloomingdales.com
"Not your typical sunglasses, these Ray-Bans make me want to head to Studio 54 for the summer." –Liz
5. Kate Spade striped straw hat, $75, katespade.com
"Such a fun pattern to freshen up any solid-colored sundress or suit from seasons past or present. Affordable, too!" –Liz
6. L Space "Stardust" fringe one-piece, $140, revolveclothing.com
"The nomadic prints are everywhere, and I am loving this sexy one-piece. The deep V and white fringe accentuate the allure even further–wear at your own risk!" –Liz
7. Fanta Celah "Coral Branch" and "Blue Green Agit" necklaces, $50 and $60, The Silver Room, 1422 N. Milwaukee Ave., 773-278-7130, thesilverroom.com
"Often overlooked, simple jewelry helps pull together seaside outfits. I like Fanta Celah's colorful, nature-inspired pendants." –Liz
8. Wacky Wipeout Colored Zinc Oxide, $3.09 per tube, caribbeanbreeze.com, and Zinka Colored Waterproof Nosecoat, $14.94 for three, amazon.com
"A playful, easy way to shield your skin from harsh rays? Neon war paint!" –Liz
9. Kerastase Soleil Huile Celeste Shimmering Protective Mist, $37, kerastase.com
"I use this leave-in conditioner after I get out of the water to detangle and soften my hair. It has a shimmery effect that makes me feel like a sexy Bond girl." –Annie
For more fashion, beauty, news, and shopping advice, visit Lucky. And here are some other awesome stories –