This post is from our new sister site Mighty Beauty.
Summer is all about sandals and flip-flops (well, the cute ones, anyway). That means your toes should be in tip-top condition as you're strolling the beach, going to a cookout or wearing open-toe heels with your work attire. These all-natural ingredients are great for your home pedicure, and can be used all times of the year, but are especially beneficial during the sunnier months when you want your skin to be especially glistening.

How to Keep Your Feet Healthy this Summer
Coconut oil.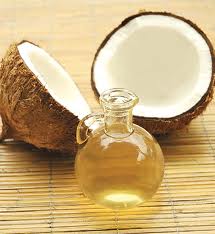 Extra virgin coconut oil filled with essential fatty acids that nurture skin cells. The oil is also ideal for pedicures because it's thick and will thoroughly moisturize dry, rough skin. The substance is antibacterial and gets rid of impurities in the skin and digestive tract; mixing a teaspoon or two in water also helps to provide thorough hydration during the summer months. Rubbing some coconut oil on your feet and putting some cotton socks on before bed at night will give the oil time to "work," and your feet will be soft and supple in the morning, so you can add the polish of your choice for a pretty summer pedicure. Check your local grocery store for extra virgin coconut oil—it usually costs around $10.