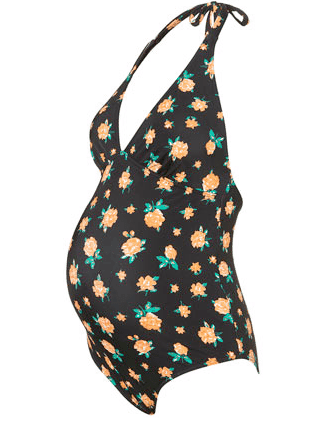 Rose print bathing suit $56.00 from Topshop
This super cute swimsuit is just the ticket if you're looking to carry the floral trend through the spring and into deep summer. The halter neckline offers tons of support and little flowers are tres jolie! Plus, having the always flattering black as its base makes it a great suit for moms-to-be, and both its cut and pattern are evocative of old Hollywood glamour.
Becoming a parent is probably one of the most meaningful things a person can do. There are so many changes: to your life (obviously), to your body (check!), and to your wardrobe (duh!). But none of that means you can't keep your outfits current and have a little fun along the 9-month long way. And incorporating some florals, like the pieces we've chosen above is a marvy way to do it (if we may say so ourselves)!