Runway shows featuring spring fashion lines had some gorgeous models with even more gorgeous makeup. But, the one thing that surprised us is how natural so many of them looked. Sure, some designers played the wild card with blue hair or over the top lip color, but the vast majority embraced natural beauty. There were dusty pinks, soft blushes, freckles showing through, and often a lack of eyeliner. Gone were the huge, thick eyelashes full of mascara, but ever present were heavier eyebrows, pretty lips, and even skin tones.
To start embracing these elegant trends for the upcoming spring, check out the popular make up color trends for 2012.

Top Makeup Trends Spring 2012
Eyeliner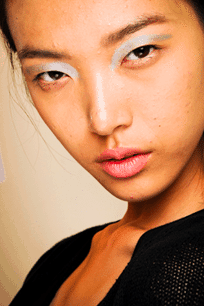 Style.com
So often, we think of brown or black eyeliner as our go-to product because it accentuates the eyes and gives us a dramatic look. But many of this Spring's designers embraced a more natural appearance. To achieve this look, either go without eyeliner or purchase a very light brown, almost nude eyeliner just to give your eyes a little depth without being over the top. Another popular trend was one line of black eyeliner on the top lashes, which looked great when paired with some of the lighter eye shadows seen this spring.