If we know one thing for certain about spring fashions this year, it's that color is trending strong! And this veritable fruit bowl of bright goodness is not limited to just the clothes we wear on our backs, but has extended beyond to the sparklies and baubles that adorn our necks, wrists, fingers, and earlobes. Jewelry trends for spring are popping with color! Nautical styles and lots of mixed metals are making their presence known as well. So for your viewing pleasure, we've rounded up our favorites that have already topped our must-have lists!

Jewelry to Wear this Spring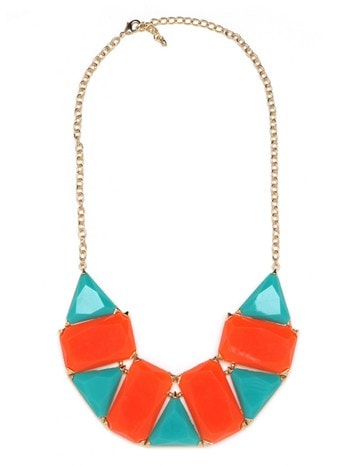 Turquoise and tangerine bib necklace, $38.00 from Bauble Bar
Bold Baubles – Color isn't just for the closet anymore. It has spilled over in to the jewelry box and we couldn't be happier! This season's crop of bright accessories are so cheery, and they add some pizzaz to any outfit. A colorful piece of jewelry can be just the right thing to complete your outfit, whether it's an all-black ensemble or boldly color blocked outfit from head to toe.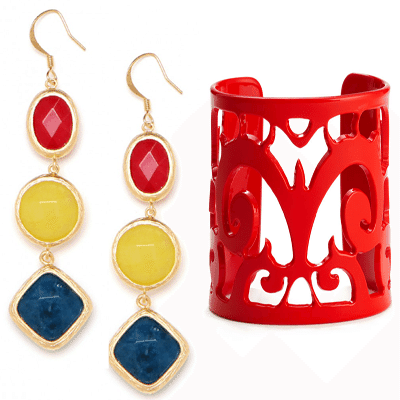 1. Bejewelled earrings $32.00 from Bauble Bar
2. Tomato red filigree cuff $38.00 from Nordstrom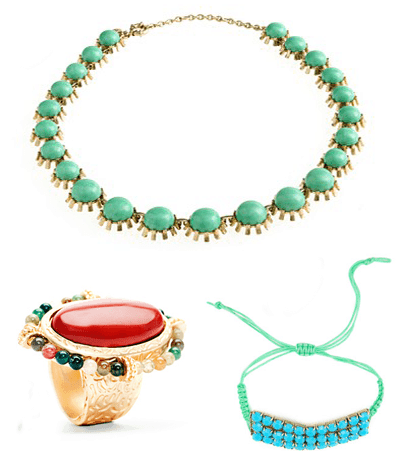 3. Sunflower necklace $68.00 from J Crew
4. Multi-stone ring $24.99 (down from 49.90) from Mango
5. Three-row turquoise bracelet $3.50 from Charlotte Russe