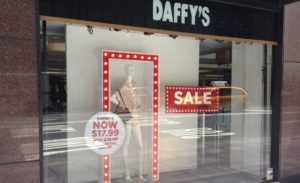 More than 50 years in business and 19 locations is coming to a screeching halt for New York-based discount retailer Daffy's — the company has announced it's liquidating and closing all 19 stores over the next few months. Daffy's attributes the move to a "the uncertain economy and weak consumer spending and a lack of viable financial and business alternatives," according to a report in Crain's.
In case you didn't know (and if you're not in the East, you probably didn't!) Daffy's was one of the forerunners of discount fashion retailing, founded in 1961 offering designer clothes at affordable prices before discount designer retailing was cool.
We're always sad to see an icon like Daffy's close, but it's definitely serves as a grim reminder of the "adapt or die" nature of catering to consumer needs in a crazy new economy. And they're not closed yet — if you happen to be near a Daffy's, they're liquidating merchandise and so are certainly worth one last hurrah of designer deal finding.