This content may contain affiliate links. Please see our disclosures for more information.
4. Maternity Clothes
It never fails. Inevitably, one or two Liz Lange maternity tops end up in our dressing room and mind you, there's not even a baby on the way. Um, awkward!
In many other stores, we walk from the misses section and then—boom—it hits: a sea of tops blanketed in duckies conveys that we've now entered "The Pregnant Section." But not at our Target. The ladies department flows right into Liz Lange's wonderfully stylish world of figure flattering maternity clothes. Before we even notice that the blouse we just picked up is a little looser around the waist than normal, it's in our cart.
Seriously, their maternity styles are awesome.
5. A Great Website Experience
We love, love, love that the Target website is just like the store itself: clutter-free, easy to navigate, fun, affordable, and varied. (Their marketing folks would call that great branding; we just call it great).
Not only is the site easy to browse, it's chalk full of amazing online deals (spend $50, save 10% on select dresses is one example as of this writing), crisp product images and links that link to what they say they will (there's nothing more frustrating than clicking on wedges, only to read about umbrellas).
Plus, the site is downright fun. Phrases like, "Big honkin' deals" and "S to the weet" leave us grinning. We absolutely enjoy the link for the Shops at Target (yes, that again!) where each Shop's main page is unexpectedly playful and brimming with great items. Check out the dripping nail polish bottle for Cos Bar, an Aspen-inspired selection of beauty products including masks, body butters and tweezers. The swaying Privet House sign also catches our attention, inviting us to browse all kinds of bohemian-vintage home décor.
6. Lots of Real Estate
Ever go to some stores where you have to lug your cart aaalllll the way backwards down the aisle to make way for Betty and her entourage of grandkids, neighbors and family? Well, Target puts an end to all the awkward side scoots and cart-induced toe bruises.
Aisles are roomy.
There's . . .
space.
7. Clearance
There are always amazing deals at Target (in store and online).
Their end caps (the ones around the outer perimeter of the store) have some outstanding steals. We recently fell in love with a tangerine-scented soap (up&up) that cost 89 whole cents. S to the weet! (See #5 for the reference).
Want a deal—a mega deal—on clothes? Check out the racks in the back where, on a regular basis, there are rows with selections starting at 30% off and upwards.
And before you think these fantastic deals must mean you'll be settling for Bozo the Clown blouses that come only in XS sizes . . . not true.
Online too, there are always exclusives and printable coupons.
The deals are Target are pretty darn great.
8. Affordable Quality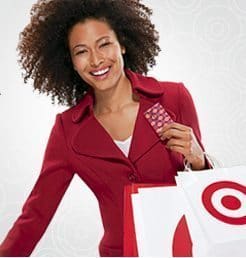 Credit: Promo Code Pal
Used to be the term, "affordable quality" was considered a bit of an oxymoron. You know: Jumbo Shrimp. Long shorts. Modern history. You get the point. But aisle after aisle proves that both well-priced and well-made go hand in hand at Tar-jay.
There are evenly stitched dresses with lining that clings to the material (not your body . . . how annoying is that, anyway)? Strollers are as durable as their pretty sushi plates. Notecards ooze with such whimsy, they make us want to send elegant "Thinking of You" messages to people we don't even like. And the best part of all of this?
Affordable, affordable, affordable!