8. Apartment Section
As you know, we at TBF like to stay stylin' , so it's only natural that we would want to extend chicness to our homes. Thank the interior decorating gods that ModCloth has an apartment section for us all to indulge.
[imagebrowser id=554]
9. Free U.S. Returns and Exchanges
So you buy your dress from ModCloth to find that you don't like it or it doesn't fit quite right or you're more Lavigne than Hepburn. Go ahead and return/exchange it for free! Yes, girl, free.
10. Be The Buyer Section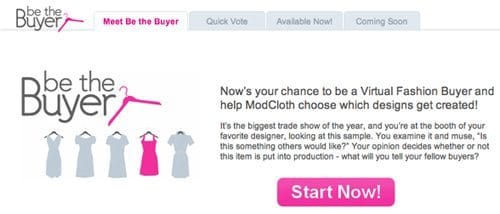 Is your dream to be a fashion forecaster? Do you want to be able to choose the hottest fashion find your fave stores carries? Well, ModCloth gives its customers the opportunity, with the Be The Buyer section. Here is how it works, straight from the (fashion) horse's mouth.
11. Indie Designers
I love buying from indie designers. It's one of the best ways to make your wardrobe special by getting wonderfully-made and exclusive pieces. ModCloth provides an opportunity for designers like Bernie Dexter to have a larger audience for their designs. It really makes you feel good about your one-of-a-kind purchase!
When I am looking for something extra-special to add to my wardrobe, I always take myself to the ModCloth site. It's all about being pretty special–or better yet, pretty and special, and I can definitely cosign that. Have any of you bought anything magnificent from ModCloth that you want to share? Tell me.