Whether you are having people over tonight to watch "Lost" or throwing a big Friday night bash, pizza is a fabulous perennial party food. But with rising food and fuel costs, getting pizza isn't always the deal it's cracked up to be and don't even get us started on those nasty frozen pizzas (that includes you, Digiorno).
You can save some dough by making your own dough and having your friends bring cheese and their favorite toppings. Prepare the dough in advance and when your guests arrive, have them help you build their own pizzas. It is a fun way to save money and eat some delicious pizza. In fact, we love making our own pizza so much, it has become a Friday night tradition and we've tried every topping from eggplant to bacon on ours.
Baking the Pizza Dough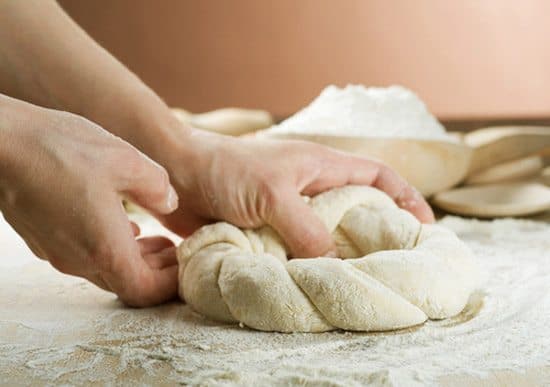 Make it and Bake it
Use Jay's signature pizza crust recipe from AllRecipes.com for a no-fail dough.
Ingredients
2 1/4 teaspoons active dry yeast
1 1/2 cups warm water (110 degrees F/45 degrees C)
Directions
1. In a large bowl, dissolve the yeast and brown sugar in the water, and let sit for 10 minutes.
2. Stir the salt and oil into the yeast solution. Mix in 2 1/2 cups of the flour.
3. Turn dough out onto a clean, well floured surface, and knead in more flour until the dough is no longer sticky. Place the dough into a well oiled bowl, and cover with a cloth. Let the dough rise until double; this should take about 1 hour. Punch down the dough, and form a tight ball. Allow the dough to relax for a minute before rolling out. Use for your favorite pizza recipe.
4. Preheat oven to 425 degrees F (220 degrees C). If you are baking the dough on a pizza stone, you may place your toppings on the dough, and bake immediately. If you are baking your pizza in a pan, lightly oil the pan, and let the dough rise for 15 or 20 minutes before topping and baking it.
5. Bake pizza in preheated oven, until the cheese and crust are golden brown, about 15 to 20 minutes.
This recipe makes a lot of dough. Divide the dough and roll it out for 2 cookie sheets for thinner crusts. Double the recipe for four pizzas. Also, before your guests arrive, prebake the dough for 6-8 minutes in the oven. This will ensure that your dough is ready to be topped and baked.