Dino Dynamo – This blouse is a great illustration of how to wear the novelty top trend in a lady-like or office appropriate way. Simply wear this top with your favorite suit or a warm color cardi (like plum or emerald) and a neutral (i.e. grey or camel) wool skirt.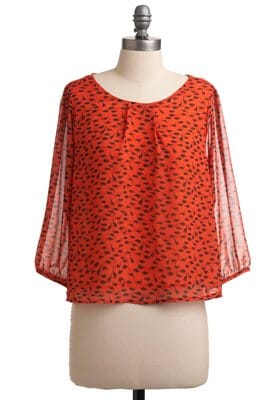 Orange blouse with mini dinosaur print $42.99 from Modcloth
So while you may be an algebra whiz or a "give peace a chance" kind of person, a dino lover or a loyal New Yorker subscriber, or a "divine" 3D flower power tiger tamer, one thing is clear: there is room in this trend for all of us. And after all, isn't that what fashion is really about? Taking the trends from the runways and making them our own?
Now, who knows the definition of an isosceles triangle?