Credit: WAH Nails/Style.com
Like makeup for your face, polish on your nails allows you to create a little bit of art every day. Lately, magazines and the blogosphere have been full of fabulous inspiration for nail art. From sleek polish combinations that are work-ready to wild colors that only some our most favorite celebrities can pull off, inspiration is in the air. Some of these are even quite simple to achieve on your own with a narrow brush and a steady hand. To see what I mean, check out some of our favorite nail art designs below.

Masterpieces for Your Nails
Trendy But Sleek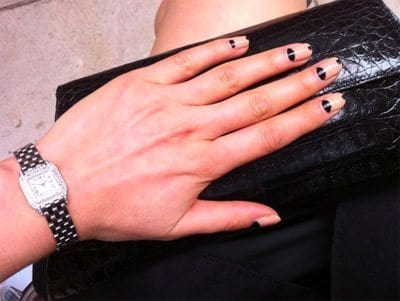 Credit: Style.com
I love this polish combination because it's not too over-the-top. You can be unique and trendy, but the neutral polish tones down the entire design for a look that's appropriate for even in the most professional environment. This nail art would even work with other colors, too. Just experiment on your own and have fun to see what design is best for you.