Carrie Bradshaw may have started the trend ten years ago, but monogrammed necklaces are back in style this summer. Thanks to celebs like Taylor Swift, Carrie Underwood and Reese Witherspoon, monograms are no longer reserved for canvas weekend bags and his and hers towels.
This season, monogrammed necklaces are classic and sexy with dainty letters and skin bearing cut-outs. They're a super cute way to confidently tell the world who you are. And monogrammed necklaces don't even have to bear your initials. It's popular to wear the initials of your child or even your hubby. Another Bonus? You won't run in to many people sporting the same one.

Monogrammed necklaces are available in all kinds of styles, from sterling silver to rustic copper to diamond encrusted, but they don't have to cost a month's rent. We've found some surprisingly affordable options, for as little as $35.
Remember, each necklace is custom made according to your initials, so they have to be ordered online and shipped. And while many of them feature curly cut-out letters in sterling silver or gold plate, we're partial to monogrammed necklaces that are a little bit unique, like the Copper Hand Monogrammed Pendant pictured below. After all, you and your name are unique, so shouldn't your necklace be, too?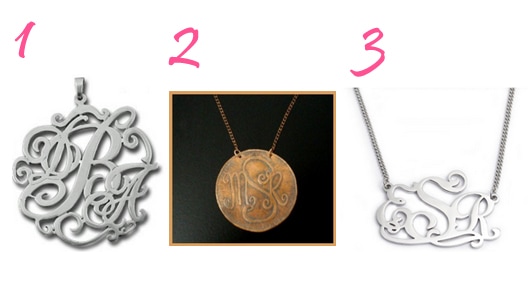 1. FabuLess, Personalized Silver Monogram Necklace, $69.99
2. The Pink Monogram, New Copper Hand Monogrammed Pendant, $85
3. Zales, Stainless Steel Monogramed Necklace, $49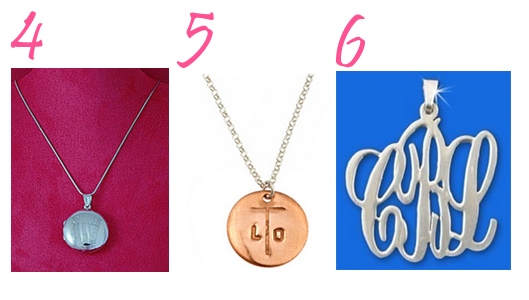 4. Overstock.com, Sterling Silver Monogrammed Round Locket Necklace, $69.99
5. Max & Chloe, Laura James Jewelry MonogramNecklace, $94
6. Etsy.com, Personalized Sterling Silver Monogram Necklace, $35.95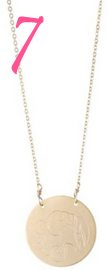 7. Couture Candy, Danielle Stevens 10k Gold Plated Chain Monogram Necklace, $78