The following is a guest post from our friends at Lucky.
If you ask us, it's never too early to start looking forward to the warmer months. And with spring about to, well, spring, now is the time to revive parched strands and prime your locks for the sunny days ahead. So what's the most in-demand style of the upcoming season? "Undone, loose and long locks finished with a center part," says stylist April Eslami of Sine Qua Non (2766 N. Lincoln Ave., Chicago, 773-871-2280, sinequanonsalon.com), a salon known for churning out edgy looks, short cuts and low-maintenance styles. "The style popped up on runways from LNA to Burberry Prorsum." Here Eslami divulges her top tips for playing up your own natural texture for maximum gorgeousness.

1. Quench Parched Strands. "Winter leaves hair really dehydrated. Counteract that by shampooing less frequently and taking time to saturate the ends of your locks with a truly moisturizing conditioner. Then use a mask once or twice a week to repair and minimize damage." Eslami's recommendations: Bumble and Bumble Quenching Conditioner and Masque
2. Add Subtle Sheen with Ombre or Gloss. "In keeping with lower-maintenance cuts and styles, I expect the ombre trend–going darker at the roots and gradually lighter to the ends–to stick around. Ask your stylist for a look inspired by Rachel Bilson, Gisele or Sarah Jessica Parker in tones that enhance your natural shade, or simply go for a no-fuss gloss to amp up the shine factor." Don't have time for the salon? To achieve similar sheen at home, Eslami says to rinse hair with cool water to lock down the cuticle and seal in shine. Then, add an oil from mid-shaft to the ends of damp hair. It'll add an immense amount of shine and cut down on your blow-dry time. Finally, sparingly apply a finishing serum. Eslami's recommendations: DermOrganic Argan Oil and Aveda Light Elements Smoothing Fluid
3. Weave an Anti-Coiffed Side Braid. "A messy side braid is a great alternative to a ponytail for second- or third-day hair. First, apply a hair powder, which binds to any residual oil, removes excess shine and adds tons of volume. Comb it through and work a styling spray on to the ends, lightly scrunching to add texture. Then, sweep your hair to one side, section into three parts and braid it. Slightly rough the finished braid with your fingers so it looks more loose and tousled. Finish with another spritz of styling spray. Eslami's recommendations: Bumble and Bumble Hair Powder and Does It All Styling Spray
In addition to the Lincoln Park location, Sine Qua Non has salons in Lakeview and Andersonville. A fourth location opens in West Town (2038 W. Chicago) in late April.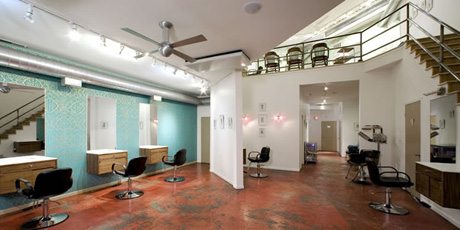 For more fashion, beauty, news, and shopping advice, visit Lucky. And here are some other awesome stories –