This content may contain affiliate links. Please see our disclosures for more information.
4. Always Wear Sunscreen. Seriously, though. It's more important than deoderant, and we know you never forget that. SPF 15 and higher (I opt for 30) can now be found in non-greasy and lotion-like formulas that wear well under make up.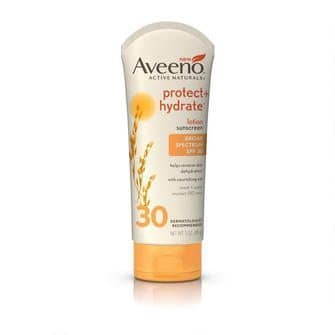 My go-to is Aveeno, and usually costs about $15 and under (usually around $10).
5. Have a Routine. It doesn't have to be complicated or long. Most skin docs will recommend "Wash, Tone, Moisturize," which means that you need to pick the following:
Face Wash that fits your skin type. Don't know what that is? Check here. Since I'm combination, and obsessed with Aveeno, I love this foaming cleanser and keep it in my shower.
Toner was the most recent addition to my routine, and after learning why, it was a no-brainer. Toner will reduce the size of your pores, even out your skin, and make your skin more "thirsty" for whatever moisturizer you apply next. I always opt for Aveeno's Positively Radiant.
Moisturizer. I have one for day (with SPF, see #4) and one for night (with retinol, see #3).
6. Remember, whatever you do, your skin is worth it!