This content may contain affiliate links. Please see our disclosures for more information.
I swear, every year I see a few more fine lines on my face. Bah! Of course, nobody can buy time. So instead of wasting it wishing I were younger, I look for ways to reduce wrinkles without shrinking my bank account. Here is my checklist of techniques for an anti-wrinkle regime that you'll love, too.
Tips on How to Get Rid of Wrinkles
1. Drink Three (3) Liters of Water a Day. Sound too good to be true? Sometimes, the most simple remedies are straight from nature. When my friend sent me this article about a 42 year-old woman who saw drastic changes to her skin tone, texture, and youth after drinking three liters of water a day, I was skeptical. But then I saw the photos. Read this and then go pour yourself a glass.
2. Vitamin C Face Mask. Vitamin C forces your skin to create more collagen, which in turn reduces wrinkles. As you chant "baby face," consider these unique Vitamin C abundant options:
Cut a pineapple in to slices, place on face for twenty minutes. Rinse.
Mix 1 tbs of rosewater, 3 tbs of honey, and 1/4 cup of water. Microwave and mix, mask on face for 15 minutes. (Did you know that rosewater contains 20% more Vitamin C than an orange?)
3. Retinol Cream or Serum. Known for instigating the production of collagen and hyaluronic acid in skin, using a retinol is the non-script option for retinoids. Find a day and night cream, and use it religiously.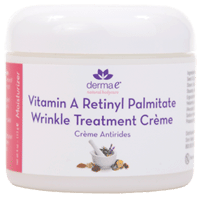 I'm obsessed with Derma e, which feels silky and moisturizing and only costs $12.99.