photo courtesy of Style and the City
Holiday style in Paris is not so dissimilar from holiday fashion on our side of the pond but, as with anything else, les copines Parisiennes always add a little extra something special to their Yuletide ensembles and this year is no different. They don't call it je ne sais quoi for nothing! Read on and discover the five hot holiday trends in Paris right now.
Hot Holiday Trends in Paris for 2012
Fabulous in Fur
Kate Moss is not the only who loves a cozy fur on a cold day. The ladies of Paris do too, and what better way to dress up your seasonal style? As we have always said here at TBF, wearing real fur is a personal choice, but whether fur or faux, there are a plethora of shapes, styles and even colors to choose from. Wearing a jet black or sable-colored coat over your party dress offers you double duty: warmth and style! If you don't want to commit to that much of the soft stuff and you're just looking for a titch here or there, there are plenty of accessories too; from scarves to hats to gloves with fur cuffs.
Pretty in Purple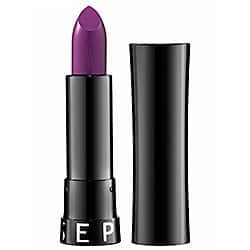 While red is generally considered de rigeur for holiday lips and nails, it's can be the obvious choice and, well, obvious is not a word often used to describe the French, especially when it comes to their fashion choices. We've been seeing a lot more purple adorning the faces and hands of the style set in Paris. For nails, it's more of a muted, almost lilac variation. For lips, it's deeply pigmented, closer to fuchsia. The deeper and more saturated the color, the better! Try Sephora's Rouge Shine lipstick in Heartbreaker ($12) or SpaRitual nail lacquer in Heliotrope ($10).
Lovely in Leather
Thankfully, it never gets so cold here that you have to hide under massive puffy coats and giant I-just-came-from-a-walk-on-the-moon boots. The temperatures in Paris never drop to an unbearable degree – yes, it's cold, but you'll never see single-digits, or god forbid, negatives like you sometimes do in places like New York, Chicago or Denver.
Enter the leather pants. Super chic, stylish and when paired with the right top or blouse, über sophisticated. For holiday parties play up the cool, but play down the rocker vibe by wearing them with a sheer blouse, elegant blazer and lacy cami or super soft angora sweater in winter white, cranberry or deep purple. (Go ahead – match your sweater to your purple lips or nails: 'tis the season to have fun with your wardrobe!) It's true that leather pants can be on the expensive side, they are often trés cher, but as with fur, there a lots of great faux options that can look just as lovely.