The following is a guest post from our friends at Lucky.
For many of us, the term "high-waisted" doesn't exactly bear the most positive connotations. It can bring to mind such unpleasantries as "wedgies," "Urkel" or, even better, the dreaded "mom jean." And yes, while in those instances higher-rising waistlines are totally terrifying, I can't help but be completely enamored with spring's latest retro-inspired silhouette. Here are a few reasons why you shouldn't be scared either: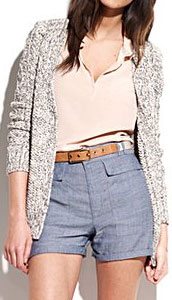 1. Madewell cargo shorts, $69.50, madewell.com
With a moderately high waist, these are a great way to ease into the trend. Wear with a plaid button-down or striped tee for a neatly tailored take on casual.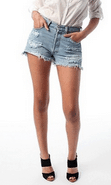 2. Urban Renewal cutoff denim shorts, $39, urbanoutfitters.com
Distressed cutoffs with just the right amount of shape–these are to be lived in. Ideal over tights with a cropped sweater for now, or with a slouchy tank and sandals come summer.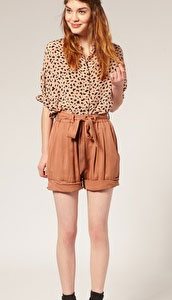 3. ASOS belted shorts, $62.76, us.asos.com
A paper-bag waist is a quick mechanism to cut excess bulk and define any silhouette. This pair would be great with an equally drapey top tucked and cinched in.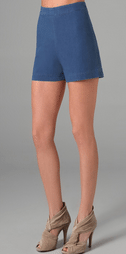 4. Superfine high-waisted shorts, $209, shopbop.com
These are pure woodsmoke '70s and–with their crisp, clean waist-accentuating cut–unexpectedly flattering. Wear with a relaxed, tucked-in utility blouse or sleeveless collared button-up for a refreshingly streamlined silhouette.
Now, tell me, are you feeling any braver?
For more fashion, beauty, news, and shopping advice, visit Lucky. And here are some other awesome stories –