Even though I live in the Sonoran desert, where October and November temperatures still hover in the 80s, 90s and–Lord, have mercy– 100s, I still love the fall season. I lived in the Midwest long enough to remember the crisp autumn air, overcast skies and brilliant foliage that hung over roads like giant fiery canopies. So, come October, I feel a tiny pang of jealousy toward those who get to sip hot apple cider around bonfires without feeling like they're hanging out in an oven. (Though note: They are jealous of me when it's 70 degrees and sunny throughout the winter.)

How do I deal with missing out on my favorite season? By living the autumn months vicariously through Instagram and Facebook photographs of fallen leaves, hot cocoa and self-shots of people in hoodies. Oh, and I also go full-out when it comes to fall makeup, hair, fashion and, yes, nails. It's the little things that make me happy.
Check out my most recent (and oh-so-easy-to-replicate) fall mani.
Harvest Pumpkin Manicure Tutorial
Step One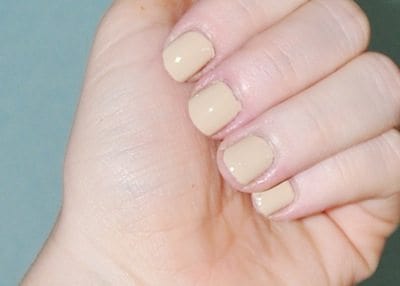 After prepping those nails (read: filing, moisturizing, applying base coat), paint your nails a neutral tone such as beige. I'm using FingerPaints Don't Make A Scene. You can also try clear or a blushing nude.