The following is a guest post from our friends at Lucky.
Someone once sang about a special place over the rainbow–a place where troubles magically melt like lemon drops and happy little bluebirds fly. Why, oh why can't we go there? Well, as it turns out, it doesn't take a tornado to start seeing things in Technicolor.
This summer, bright bold hues are virtually, everywhere. We took a trip down the yellow brick road (and by that, we mean, devoured The Frisky's piece on the benefits of vivid yellow), and unearthed our own sartorial rainbow of sorts. Click here to view all The Frisky's top 10 sunny picks, and see below for some of our gloriously saturated seasonal favorites–all without having to schlep to Oz.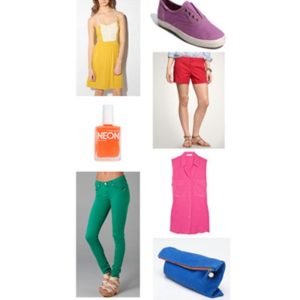 from top left, clockwise: Kimchi Blue lace bib knit dress, $49,urbanoutfitters.com; Keds sneaker, $24, Nordstrom.com
; clean front shorts, $39.95, gap.com
; Equipment signature washed-silk sleeveless shirt, $180, net-a-porter.com; Royal blue pebble foldover clutch, $149, seevivier.com; Rag & Bone skinny jeans, $165, shopbop.com
; neon coral nail polish, $6, americanapparel.net
For more fashion, beauty, news, and shopping advice, visit Lucky. And here are some other awesome stories –