This content may contain affiliate links. Please see our disclosures for more information.
Colored Pencil Pants: The Attention-Getter
You're probably thinking we're off our rocker on this trend, but hear us out. Pencil pants are like the kinder, gentler, skinny pants. While skinny pants taper in at the ankle, pencil pants tend to be tailored more like capris, curving in slightly through the thigh, with a slight flare at the hem. Add in a bit of color and you've got a trend that is both daring and familiar. For those of us who are a bit less adventurous, try the pants first in a deeper color like rust or forest green.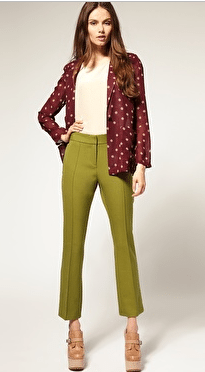 Cropped Kick Flare Pants, from $58.54 at Asos.com (also available in plus size)