This content may contain affiliate links. Please see our disclosures for more information.
Picture-Perfect Examples
So, what do some great profile pics look like? I instantly thought of a couple of my FB friends and wanted to share.
Hey, Romeo (*Eyelashes Batting*)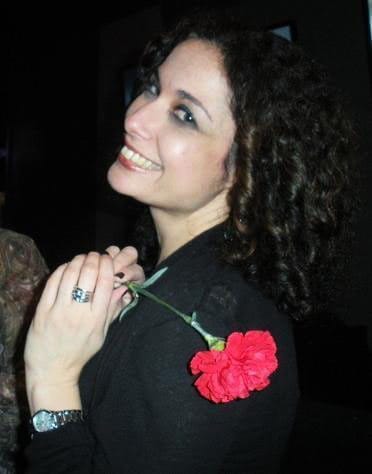 Francine T., in her flattering "eat your heart out" FB profile pic.
So here's my FB friend Francine T., a New Jersey resident who works in the corporate communications department of a global nonprofit organization. I think her pic is awesome because it does all the right things in the ways of lighting, angles and framing AND shows a fun, come-hither personality.
Francine explains that the picture was taken the day before her birthday in February, when she went out with her sisters and some friends. Because it was close to Valentine's Day, people were giving out red carnations. "We started taking random photos with the flower and had a little fun with it," she told me. "I loved the way the photo came out; it looks playful and the angle is a little mysterious. The fact that I had recently gone through a breakup may have influenced my choice to use it as a profile photo as well, in case someone came across it. I think it says, 'Eat your heart out.'"