You can never own too many soft and cozy sweaters!  Buy one in a color blocked palette, and find yourself comfortably on trend next winter.
Leather pants are the cool girls answer to feeling fine.  Get in on this edgy classic now while the prices are down.  Next year, you'll be looking at an absolute must-have!
Or play up your gams in a pair of leather shorts.  Add black tights to fend off the still-frigid temps.  Then in early fall step out in bare legs to lighten up the look.
This is an end of winter sale you won't want to miss!  A neutrally toned bootie will work wonders with your winter wardrobe.  And there's an added bonus!  When worn with a floral frock, your casual bootie becomes a springtime fave!
A fucshia high heel bootie is a fun way to say bye-bye to the cold weather.  It adds the perfect pop of color to breathe life into winter's darkest days. Pair with a pencil skirt and v-neck sweater for an always in-season style.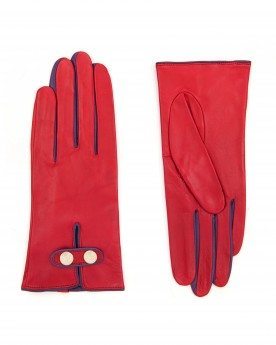 Leather Button Glove, $55 from TedBaker-London.com
And if you really have lost your right glove, then definitely don't wait until next year to replace.  Winter accessories are on major markdown now.  So that includes any scarves and hats too!