Est. reading time: 1 minute(s). So, about our budget fashion and style advice: We sometimes use affiliate links, so we might earn a buck or two if you click and buy 🙂 !
Why be the Sexy Fill-in-the Blank like everyone else? I don't know about you, but I'm so sick of seeing slutty-this and slutty-that on Halloween. Where's the creativity in that?
Here are three thought-provoking ideas to try this year and that will still have you the star of the party even without your booty hanging out!
Conservative Halloween Costumes that Also Happen to be Cool
1. Nudists On Strike.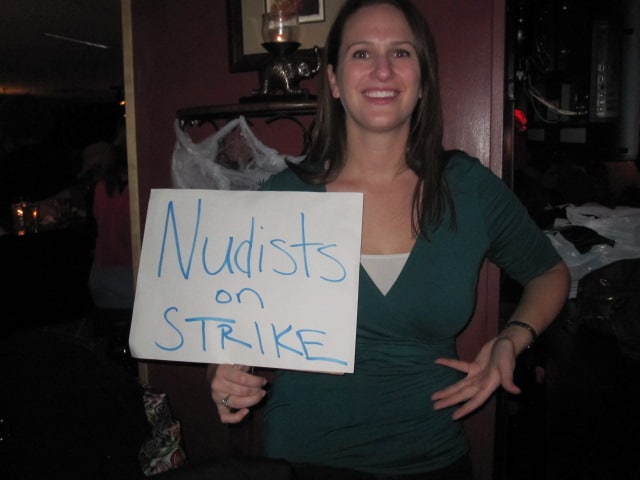 This costume is cost effective (okay it's free, comfortable, and INGENIOUS!) Here's smartie pants Susan Schwartz working the idea.
2. Mary Poppins.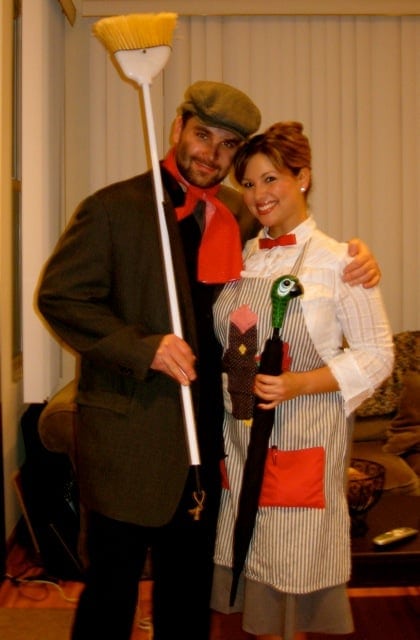 You'll need a dress and an umbrella, most of which you may already own.) Each year Natasha Cox continues to amaze with her costumes and this one was not only adorable, but cheap too and in fact here she used a Thanksgiving apron as her dress but who can tell? "I made the hat with cheap flowers and a hot glue gun!" she says. Here she is rockin' it (also seen above and both with her chimney sweep sidekick and fiancé Louie).
3. Embrace Actual Costumes.

Each year, Kirby Wells tries a new costume. She stays warm, is the talk of the party, and has a blast. "I'm lucky because I can fit into kid-sized costumes too," she says, "so it saves on cost!" If you're petite, check the kid's aisle yourself!
Do you have a killer idea yourself? Please share!