This content may contain affiliate links. Please see our disclosures for more information.
Christmas Market Wanderlust – 5 euro entrance
During the summer, Wanderlust is one of the hottest and busiest nightclubs in Paris, due largely to their massive patio that overlooks the Seine. Though you may not want to party there during the winter nights, going to take in their Christmas market is a lovely way to spend an afternoon and get in the holiday spirit. The market offers lots of great gift ideas from French brands like Kusmi Tea, Shakespeare & Co. (for books) and the Little Fashion Gallery boutique (which carries famous French brands like Petit Bateau, and Agnes B), not to mention some very tasty hot wine.

Christmas Cocktails at Hotel Le Meurice  – cocktails from 16 euros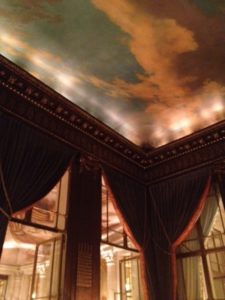 One of the most luxe hotels in Paris, Le Meurice is a superb sight to behold. Their incredibly original cocktail list with some curious ingredients – fresh ginger anyone? – simply adds to this deluxe experience, as does their tasteful yet somehow still sumptuous holiday decor. If you really want to do it up, hire a chauffeur to take you from the hotel down the Champs d'Elysee in style, for as little as 20 euro, depending on the length of your ride.
Christmas Eve Service at Notre Dame
Whether you're religious or not, spending Christmas Eve in one of the most glorious, most storied cathedrals in the world is an experience like no other. (Napoleon coronated Josephine here). The music, the hymns, the feeling of community (even if you're a foreigner) truly evokes the real spirit of Christmas.
Riding the carousel at Hotel de Ville
Just to the right of the Seine is Hotel de Ville – the official City Hall of Paris during the holidays a spectacular old-fashioned carousel is erected, playing lovely music and spinning slowly – it rotates counter-clockwise making it even cooler. Take a break from shopping for gifts on one of Paris' major shopping strips, rue de Rivoli and jump on!
Wherever you find yourself during the holidays, we here at TBF wish you happiest of Ho! Ho! Ho!