This content may contain affiliate links. Please see our disclosures for more information.
Editor's Note: Christmas has been over for at least a week, but this Christmas in Paris wishlist should come in handy if you opt to visit the French city next holiday.
Christmas in Paris: Wonderfully Christmas-y Things to Do in Paris
The ferris wheel at Place de la Concorde
Wander Through the Quartiér des Lumiére – free
Every year, as the official start to the holiday season, millions of lights are lit along the Champs d'Elysse. Usually  illuminated by a famous Frenchman or woman (French beauty Marion Cottilard did the honors last year), you'll not see the "Champs" this crowded unless its during the Parisien leg of the Tour de France. Bundle up bring your camera and wander up to l'Arc de Triomphe for one of the best views of the holidays in Paris.

Ice Skating at les Grands Palais – free + 5 euros for skate rental
There are a number of "patinoires" (skating rinks) set up in Paris, and nearby suburbs like the über charming Vincennes, during the winter. The rink at Les Grands Palais is probably the most enchanting. Twinkling lights, a beautiful space and crowded but not overly so – just enough to give you that mutual festive feeling – skating at les Grands Palais is indeed magical. Depending, that is, on your skills. Nothing ruins a holiday afternoon like black and blue bum!

Baking traditional French Pastries with Friends – just the cost of supplies
While you may not feel brave enough to tackle making the perfect croissant from scratch, why not try un petit brioche au chocolat? Or some super tasty Madeleines? Whatever the outcome of your tasty treats, the fun of baking something new and time spent with friends really is priceless, non?

Eiffel Tower on New Year's Eve – $10.50 USD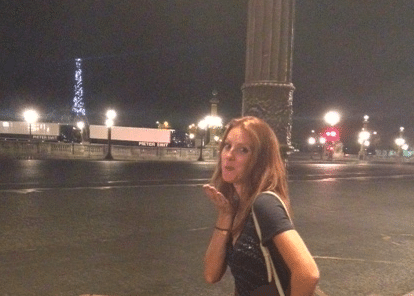 Grabbing a bottle of champagne, bundling up and sitting under the Eiffel Tower when it sparkles and, if you're lucky, while it snows (a relative rarity in Paris) is marvy. Tourist-y though it might be, the view from the top on New Year's Eve is simply magnifique, but prepare yourself for the crowds. The French are known for, and very proud of their fireworks displays. A little bubbly, a little sparkle and a whole lot of spectacle – what could be more Parisien than that?
Shop the Vitrines
What is Paris without its world-class shopping? (Well, actually it's many, many things, but Paris wouldn't be Paris without it.) Wander down rue Saint Honoré or past the iconic department stores on boulevard Hausmann during "les fetes" and marvel at the vitrines (windows). You don't even have to buy anything to appreciate this experience, except for maybe some warm chestnuts from the ubiquitous food sellers found on practically every corner.