After the dress, shoes, jewelry, dinner, and festive party drinks, having a blast on NYE can really blow the budget. Personally, I'm always a fan of spending wisely, so if there is a way to cut costs I'd rather do it where it makes the most impact with the least sacrifice. Here are my top ways to have a bash on NYE from coast to coast!

Celebrate a Budget New Years Eve at These Great Cities!
San Francisco. Take advantage of the city and view with  a hike to the best place to watch SF fireworks with the Sierra Club. I recommend giving it a festive spin by dressing up and changing in to your NYE attire once at the top. Oh, and don't forget the champagne! Sierra Club NYE. FREE!
Los Angeles. Between the Music Center and City Hall, the entire Grand Park will be packed with music, video, photo booths, and dancing galore. Also, if you can't sneak in your own, a bar with champagne. FREE!
Miami. Bands and fireworks – Bayfront Park Amphitheater: This FREE! even features live performances by various bands. There's a countdown at midnight for the dropping of the Big Orange, followed by fireworks. This is a great family outing, if your kids are old enough to make it until midnight. 301 North Biscayne Blvd, Miami. (305) 358-7550.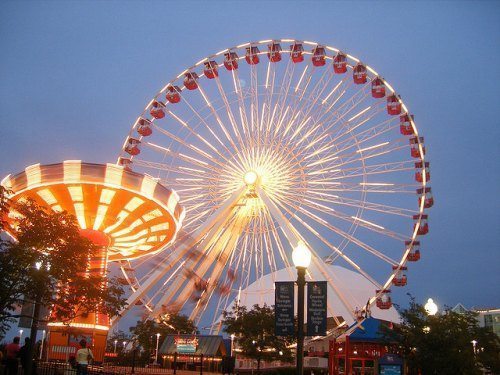 Navy Pier image courtesy of MIT_image/Flickr licensed under Creative Commons.
Chicago. Start at the zoo and end at the pier for fireworks. Cobble together for a fun night of animals and pretty explosions by hanging out at Lincoln Zoo (free!) and then Navy Pier for fireworks. FREE!
New York. Watching the ball drop is always free (but harrowing – streets close at 3pm so your "night" will start super early) or check out Emerald Nuts midnight run. FREE!
Where will you be this NYE? Let us know in the comments section.