Home Depot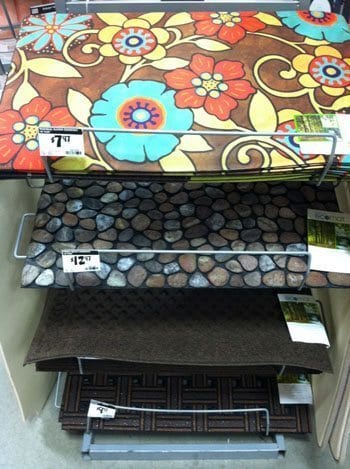 Now before you think of plywood and drill bits, stop! From decorative ceiling fan chains to pretty plug-in night lights, this place surprised us with its home décor options.
We came across three fun finds:
A pendant light ($64.97). This earth-toned, mosaic-patterned light would look amazing suspended in a corner to gently illuminate that frame you just made with crafts from A.C. Moore (see how this all comes together?!)
For the DIY gal, we found pretty, thin strips of hardwood molding with delicate styles like embossed vines and twisted rope designs. Great bare or ready for a little paint, you need not break out your Home Projects 101 handbook. Who says you have to use it for its intended purpose? Cut off a piece and adhere it to whatever floats your stylish, creative boat—give more texture to the perimeter of a bookcase or create an unstructured, layered effect by gluing a portion to just one border of a picture frame.
Even their doormats impressed us. You can imagine our surprise when we spotted groovy lime, orange and red floral patterns, or ones covered with a pebble design. Why not embrace the "who says" attitude again? Who says they have to be used as a doormat? These 18"x30" mats would be great accents for garden rooms, on patios or even in front of your stove or sink! And for less than $8? Even groovier!