This content may contain affiliate links. Please see our disclosures for more information.
Marshalls/T.J. Maxx/HomeGoods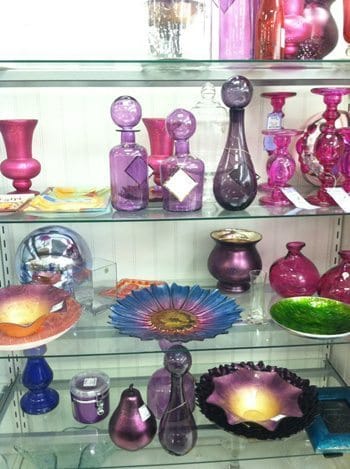 Marshalls, T.J. Maxx and HomeGoods (they're all owned by the same company) are like home decor heaven (Kathryn once spent five hours in a local HomeGoods. Yes…FIVE hours).
Aisle after cheery aisle boasts colorful, whimsical accents while still maintaining an air of elegance. We're wild about their glass bowls and vases, brimming with brights. A sunflower plate ($12.99 each) caught our eye, mainly because it was so, well, "unsunflowery" (new word). Instead of the typical yellow and black colors, this one had gold, rose and blue hues spilling outward from its center. Stunning!
We also enjoyed the wide selection of frames (most under $20). Everything from nature scenes to modern swirls made us take notice. One with a bright pink background and bold white "Keep Glam and Rock On" wording seemed perfect for its girly, yet grown-up edge, especially if placed as an unexpected, playful addition in a roomful of beiges and whites.
Searching for decorative pillows? HomeGoods' selection went on almost as far as the eye could see. Patched-on fabrics? Yup. Silhouetted birds on a limb? Check. Most were under $15.
Plus, HG is pretty much the ONLY place to buy high-quality sheets, with most sheet sets under $50. We also love their selection of furniture, which is better quality than IKEA, but priced lower than, say, Ethan Allen.