This content may contain affiliate links. Please see our disclosures for more information.
Christmas Tree Shops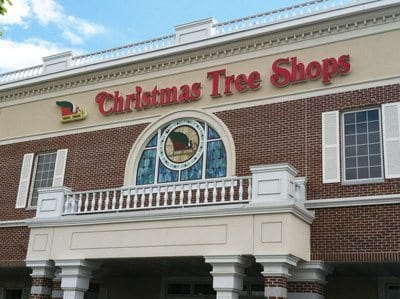 Huh? Christmas Tree Shops? Yes, Christmas Tree Shops.
We know, we still can't shake the notion that one day we'll walk inside and the entire store will be filled with little elves running amok in some Charlie-and-the-Chocolate-Factory-meets-Buddy-the-Elf scenario. Truth is, it's not some 24/7 winter wonderland. The store boasts an eclectic blend of everything from nail polish to olive oils…which means there's plenty of home décor in between.
Cute and funky seems to be their home décor theme, at least when we recently visited. Whimsical 10"x10" beach-inspired decorative mini-pillows ($3.99 each) caught our eye. With too-cute prints of lobsters and beach umbrellas, we want to snap up a few, even if we call home a bustling city. We think these would be great for peeking up from the inside corner of a wicker basket in a sunroom, perched inside a bookcase shelf, or tucked between a few other pillows we already own.
The lamps at Christmas Tree Shops are another bright spot (pun intended) on our home décor mission. Styles ranging from conservative beige with standard scalloped shades to more funky ones sporting bubble bases with patterned box shades (most lamps are no more than $39.99) left us feeling more than ready to redecorate our whole house. (Except for that pesky thing called "time." So it goes).
And speaking of time…we also like their funky/mod countertop and wall clocks, whose faces sprout rustic wire swirls and spokes. Many we saw were as low as $12.99!
Target
We recently declared our love for Target, and it went way beyond our excitement over their roomy aisles, on-trend selections and overall quality.
We could write a story about their home décor alone. In particular, we're fans of the flame: we simply can't get enough of their candle selections. From long-lasting soys, flameless ones, layered pillars or pretty sets, most are in the $20-or-under range. The more elaborate and bigger ones, of course, put you nearer the $20 mark than the tinier ones with more basic scents. Some were packaged so prettily, we almost lost track of the candle housed inside; their decorative tins and boxes are intriguing enough to adorn your mantel or nightstand (candle, what candle?!) But you'll definitely want to break out the lighter–our favorite is the layered Tahitian candle from Target Home (vanilla, amber, and sandalwood) complete with decorative band (a mere $4.99 for a 3"x3" pillar).
Target's rugs also gave us plenty of "oooh, that one" and "check this one out" moments. Check out an online burst of fun: their "exploded flowers" rug (under $80) and the soft geometrics of their other selections (less than $100). You can't go wrong at Target.