This content may contain affiliate links. Please see our disclosures for more information.
Out with the old, in with the new!
If you're feeling the urge to spruce up your living space with some new home décor but have been scared off by unpronounceable, multi-syllabic designer or store names (whose price tag renders you just as speechless), have we got some ideas for you.
Read on to discover some great places to find home décor on a budget.

Great Home Decor on a Budget
Bed, Bath & Beyond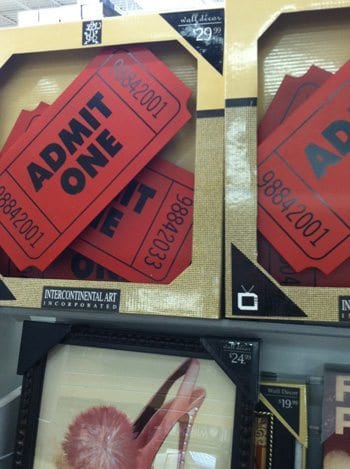 It's the "beyond" that we love. You're bound to find just what you need here.
We're digging their 3D-themed wall décor–like a pair of large, red "admit one" movie tickets ($29.99) and their abundance of decorative pillows, all oozing with ruffles, mixed colors and unexpected patterns (typically under $30). We especially like the blue 18"x18" "Magnolia Patch" pillow ($24.99) and the 22"x22" rose/lime/purple in their "Pinkberry Spring Fling Fixture" ($29.99) pillow.
Even their wastebaskets are not under-cabinet worthy; shimmering metals ($12.99) and colorful ones made from recycled paper ($9.99) make us want to use them more as an entertaining focal point than as a hidden-from-view embarrassment.
Note: Do not go beyond (pun intended) the front door of BB&B without a coupon. Check online at bedbathbeyond.com to find out how to score one.
Macy's
Four words: Heart of Haiti Collection.
Do we ever love their earthy elegance. Their original Croix-des-Bouquets bring Haitian craftsmanship to countertops, shelves or stands. Plus, the story behind the craft is pretty cool, too– for example, the hand-cut angels in their Angel Collection were made from oil drums that washed ashore after WWII (figurines and tea light figurines, $18 each). Plus, the Heart of Haiti Collection helps support Haitian artists and communities.