There's a British invasion happening on the budget fashion front. Led by Topshop (which is more "high" than "street" in the United States) and later by Forever 21-killer Asos.com, British high street (i.e., "mass market") fashion is coming stateside, bringing on-trend styles at relatively affordable prices.
British budget brands understand the need to have variety in sizing. Asos has a very robust plus size line, as well as strong maternity and petite lines. Topshop has maternity and petites as well as a plus size sister store, Evans, with a capsule collection by Gossip frontwoman Beth Ditto. Newcomer (at least to the United States) Dorothy Perkins goes up to a true size eighteen and has petites. Even British outpost Next, which doesn't have a US site but ships to the States from its UK site, has a plus size selection.
Which leads to the question, what the hell is wrong with US stores?

British Budget Fashion Newcomer: Dorothy Perkins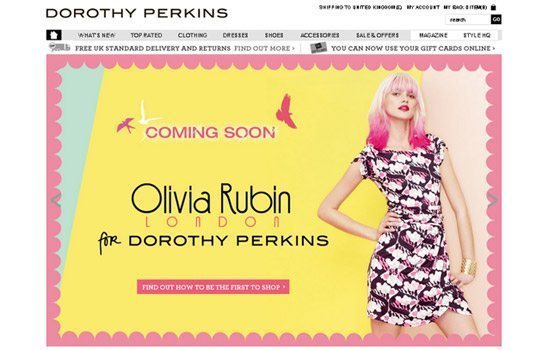 Dorothy Perkins is the latest entry into the British budget fashion invasion. The offline and online store recently opened a US version of their site. Dorothy Perkins is sort of a mix of Express and Forever 21–inexpensive, fashion-forward pieces that will last you a season (if you're lucky). However, the selection is quite impressive; I have a bright orange Dorothy Perkins blazer that I bought a year or so ago for around $40 that people swear is J.Crew. But…the return process can be a pain (you have to return the garment to the United Kingdom rather than the United States).
We're excited about the British budget invasion (especially Asos, which has fundamentally changed our fashion lives), since it has opened a whole new door of fashion opportunities for us that stateside brands just couldn't seem to grasp. It's like they figured out you can position your brand as on-trend, but your clothes need to fit real women.
What's Your Favorite British Store?