The Deal: Top Designer Clearance Coats at Bluefly
The Lowdown: Now that the temps have dropped and winter is getting serious (ugh) you just might be regretting it if you put off buying a decent coat. If your loved ones didn't hook you up over the holidays, never fear — it's not too late. In fact, January is the time to find a bargain as retailers are looking to clear out inventory to make room for spring.
What coat you buy at this point in the year really depends on just how long winter hangs around in your particular part of the world — if by March you expect to be seeing the sun again, consider a lighter, layerable coat so that you can extend your wear; if the snow will still by flying in April, go ahead and get yourself something more bundle-worthy (sounds like you'll need it).
Finding deals on coats right now isn't really the hard part — but finding sizes is a little trickier as inventory dwindles. That being said, online shopping can make the whole process a lot easier, especially at stores that allow you to search by size. Like Bluefly, which is where we found these really cool (or is it hot?) designer coats, on reduced sale no less.
Shop: Bluefly.com
Our Picks: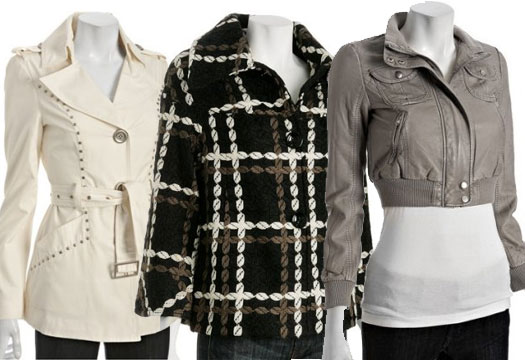 Miss Sixty Ivory Studded Trenchcoat, on sale $98.39
Hilary Radley Wool Blend Cropped Jacket, on sale $80.79
Casual Couture Green Envelope, on sale $71.99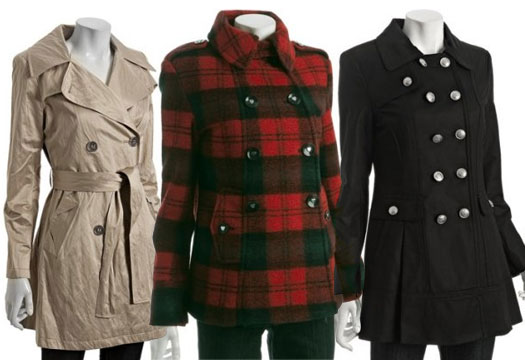 Elie Tahari Gold Cotton-Poly Sateen "Candice" Trenchcoat, on sale $128.79
Betsey Johnson Red Wool Plaid Peacoat, on sale $135.99
Laundry By Shelli Segal Black Stretch Cotton Double-Breasted Coat, on sale $104.79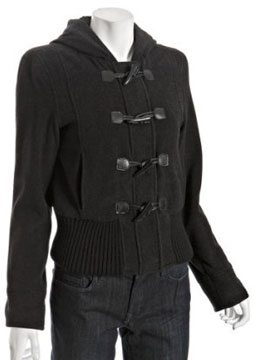 Levi's Charcoal Wool-Poly Toggle Coat, on sale $74.39