We're all about maximizing our stylish looks on a budget, but we also love helping ladies get a leg up on their business, cause or entrepreneurial spirit on a budget, too.  That's why we're excited about the second annual #BlogHerPro conference (October 22-23), an affordable two-day event in the Hotel Sofitel San Francisco Bay designed to empower women with all things social media.  Personally, I liken it to a two-day MBA in social media.  As if that's not amazing enough, ladies can get a 30% Friends and Family discount off the $199 price by entering the code PRO13FF when registering.

What to Expect at Blogher PRO 2013
Here's the scoop.  The agenda is jam-packed with social media information galore, and all of them include actionable learning experiences that ladies can implement pronto.
Now, before you think of one of those ho-hum events (you know, where you start reading the "room capacity limit" signs for fun), this one is different.  BlogHer PRO actually fuels your creativity, allows you to meet influential bloggers and hooks you up with business leaders who will help you optimize the world of social media.
The keynote speakers are business and entrepreneurial powerhouses who each have varying backgrounds with success stories and useful tips.
A peek at the BlogHer PRO 2013 Key Note Speaker Lineup
Porter Gale:  Author of "Your Network is Your Net Worth" and former head of marketing for Virgin America will discuss the value of networking and the correlation between your contacts and your bank account.  Do you have more gossip than growth going on?  She'll put you on the fast-track to building and managing your networks the right way.
Daria Musk:  Entrepreneurial musician and Google + sensation who leveraged social media to get her voice heard and rise to fame.
BlogHer PRO is Ideal for All Ladies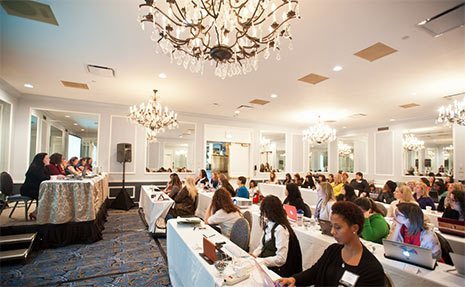 Women business owners and leaders: learn how to boost business and put goals into measurable action
Bloggers and digital influencers: ladies are taught how to develop and execute strategies on all levels  within the parameters of a blogging context
Marketers: meet influential bloggers and learn about their businesses and communities, finding who among them is the right fit for your brand
So ladies, what are you waiting for?  Register here and be sure to enter your PRO13FF code to receive the 30% BlogHer PRO Friends & Family discount.
Have fun!
Tell us, will you be attending?
Erratum: Sheryl Sandberg was erroneously mentioned as a speaker this year. Ms. Sandberg spoke in last year's conference, but will not speak this year. TBF regrets the error.