I'm what you'd refer to as a bit of a nail polish/nail art addict. In fact, if my house caught on fire and I could only bring a few things with me, one of those things would probably be my nail polish collection. I find that it calms my soul to apply layer after layer of lacquer and, to be honest, I love admiring my handiwork (pun intended). You know it's a good manicure if you can't stop staring at your fingers throughout the day.
Anyway, I like to experiment with various designs, nail polish types and stickers. For my latest manicure, I decided to give nail strips a go, but wanted to incorporate some other elements for additional zing. I promise it's extremely easy to recreate.
Here's a list of the items I used, but feel free to experiment with other colors and patterns:
Jamberry Nail Strips in Metallic Silver & White Fishnet
Orly Nail Lacquer in Bubbly Bombshell
Sinful Colors Nail Art in Flower Girl
Nail Art Made Easy!
Preparation:
File your nails and remove any residual nail polish. I like to apply a cuticle oil or olive oil around the cuticles to keep them healthy-looking. Massage the oil into the cuticle and then wash your hands.
STEP 1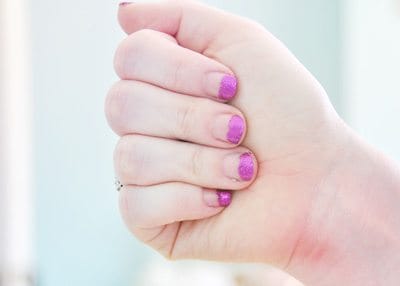 Paint the tips of your nails with a glitter-dense nail polish. The more glittery your nail polish is, the more blingy the end result will be. Before painting the nail polish tips, I did paint a thin layer of base coat to the tips. This prolongs the manicure and protects your nails.