This content may contain affiliate links. Please see our disclosures for more information.
Complete your look with the right hair and makeup
A fabulous ensemble deserves a fabulous face… and hair… and nails. For a polished look, match your lip color with your nail color. A french manicure or nude color are perfect as well.
For makeup, this is your chance to go bold. Start with asking yourself, "What's my best feature?" If it's your eyes, go smoky with a liquid liner, a little shimmer and even false eyelashes. If it's your lips, try a red or berry lipstick. Stay away from glitter, but give yourself a sexy glow by applying bronzer to your cheeks and collar bones.
DON'T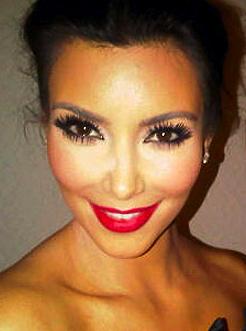 A too-tan Kim Kardashian overdoes it with bold eyes and lips
DO
Kim Kardashian works a sultry eye with natural lips
When deciding how do to your hair, take your dress into account. For a strapless or one-shouldered dress, you'll want to put up your hair, which you can do easily by creating a simple bun. Blow-dry hair straight, part it to one side, then make a low ponytail. Coil the length of the pony around the base and secure the knot with pins.
What's hot right now with down-do's are big, silky spirals. Start with a shine-enhancing cream, then wrap sections of hair from the ears down around a large curling iron. Once your hair cools down, gently run a brush through the curls. Voila! You're ready to wow.