This content may contain affiliate links. Please see our disclosures for more information.
We're not sure when the small screen became so huge in our lives (was it before the season finale of Sex in the City, or after the premiere of Game of Thrones?) But the top shelf TV talent that showed up at last nights Emmys was beyond major! Between Tina Fey and Amy Poehler 's opening heckle-fest (can't they just host every award show?) and the Claire Danes/Lena Dunham photobomb—tuning into the full 4 hours was well worth the DVRing of Breaking Bad and the series finale of Dexter.
And while the show itself went off in a big way, the pre-show red carpet was no small affair. The stars brought their A-game chock full of glam. Here are the very best looks from the Emmy Awards.
The Best Looks from the Emmy Awards
Okay, it doesn't get much glitzier than a bedazzled turtle-neck turned mermaid silhouette. We're pretty sure that only Heidi Klum can make this work.
Oh look, it's Sophia Vergara in a tight, red gown! But this time it's Vera Wang and supported by Kmart panties!
The debate is still on whether Claire Danes got a hair cut, but there's no denying the fact she looked fab accepting her award. Faux bob, or not.
Christina Hendricks does her bombshell thing, and gives us something seriously sexy. Does she ever not do this? Well, maybe not in black lace.
Color blocking and a high-low hem! Michelle Dockery is looking on trend this red carpet!
Two words for Breaking Bad's Anna Gunn—Don't Go!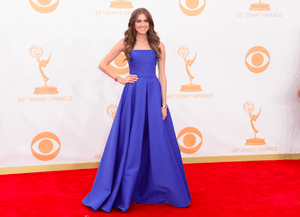 Thankfully one of the Girls actresses got it right!  Allison Williams plays on the safe side in a true blue Ralph Lauren dress, and looks amazing.
Stunning in a sparkly column gown, Julia Louis-Dreyfus knows how to handle a crowd. We love our VEEP!
Edie Falco leaves a lasting impression in a curve-hugging Escada number. Her heart warming tribute was also quite memorable.