This content may contain affiliate links. Please see our disclosures for more information.
When it comes to cinema, there's one day that celebrates the pinnacle of aesthetic accomplishment. Translation? The Academy Awards, affectionately known as the Oscars, are pretty much the Super Bowl of the movies. Yet, besides vying for titles like "Best Actress" and "Best Supporting Actor," there's another element of fierce competition. The red carpet, of course! We love playing fashion police and giving out our own accolades. Here's our list of celebs making the A-list in the wardrobe department!

The A-List at the Academy Awards
Rooney Mara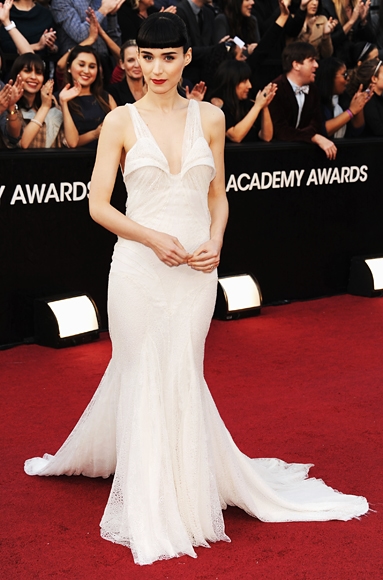 Credit: Kevin Mazur/WireImage
We expected the Best Actress nominee in something classic, daring, and black, but she surprised us when she traded in her signature color for another classic hue- white! The Givenchy gown is STUNNING, and we love the entire package: plunging neckline, dramatic makeup, and blunt bangs. It's Old Hollywood meets Lisbeth Salander goth all in one, and it works.