Credit: Bitten and Bound
Don't you just hate it when you spend time getting dressed up cute for work in your fabulous clothes and shoes, only to have that quick walk to your office leave you drenched in sweat? Seriously, we love you, summer, for your beach days and open- toe sandals, but must the temperatures get so hot?
Of course, if you have serious medical problems with excessive sweating, the following tips might not work for you, and a doctor's visit might be necessary. However, if we're talking about mild sweat spots that are just pesky and make you self-conscious, the simple tricks below could make the difference in your day. Read on below to see what we mean.

No More Sweat Spots this Summer!
1. Switch to a Clinical-Strength Deodorant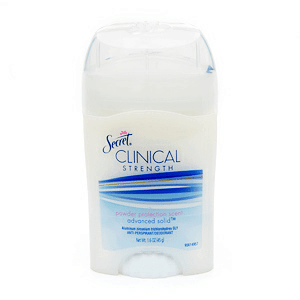 Secret Clinical Strength Antiperspirant & Deodorant Advanced Solid, $8.99 from Drugstore.com
Yes, I know it's preferable to smell like cool rain or fresh berries, but you might need to upgrade your deodorant and make sure it's an antiperspirant. Clinical-strength deodorants work harder at fighting sweat and odors and have been proven to work well for both men and women.