This content may contain affiliate links. Please see our disclosures for more information.
To say Alexa Chung is an "It" girl is putting it mildly. This British beauty has been a mainstay on the front page of the style section and in the front row during fashion week. She is well-known throughout the fashion industry and beyond as style icon, mostly because her personal style is so distinct.
Alexa definitely knows what she likes and sticks to it. She has also served as muse to many fashion designers and counts Karl Lagerfeld and Anna Wintour among her tres fashionable fans. She even inspired Mulberry to name their now iconic satchel, the Alexa, after her. Her style is so sought after, she collaborated with Madewell, designing a full line of clothes that was so popular, she came back for round two this fall, launching her second outing with the classic retailer in September. A regular addition to a multitude of best-dressed lists, Alexa balances classic and cool, while maintaining an effortless eclectic elegance. Just how does she do it?
Alexa Chung Style Deconstructed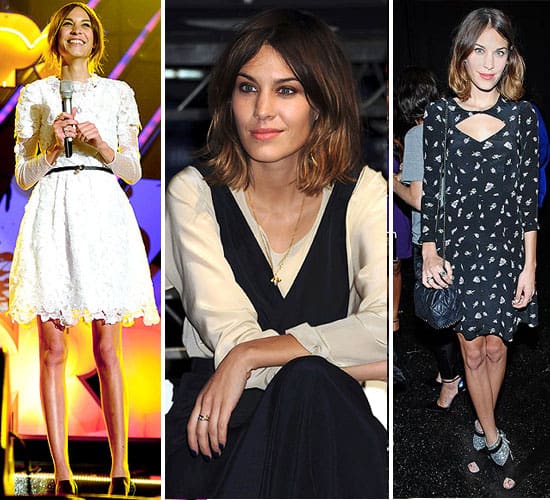 Credit: Timms/Xposure; Graylock/Abaca; Duffy-Marie Arnoult/WireImage
Keep your palette classic (i.e. black & white) – Britain's fashion "It" girl keeps things simple, most of the time, by putting together outfits in a classic monochromatic black and white (she saves the drama of color for her accessories, more on that below!). Not only has this style strategy worked time and time again, but it's wonderfully easy to re-create! Plus, if you love the Miu Miu sparkle booties (as much as Alexa and we do) but feel like the price is a bit steep, you can still rock them thanks to Charlotte Russe!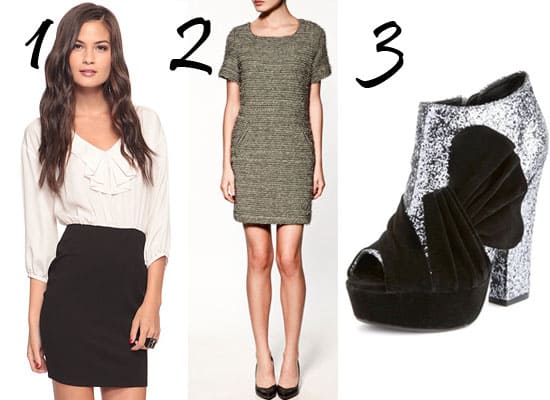 1. Black & white combo dress $19.80 from Forever 21 
2. Black & white dress $79.90 from Zara 
3. Glitter bootie $42.50 from Charlotte Russe 
Keep your shoes flat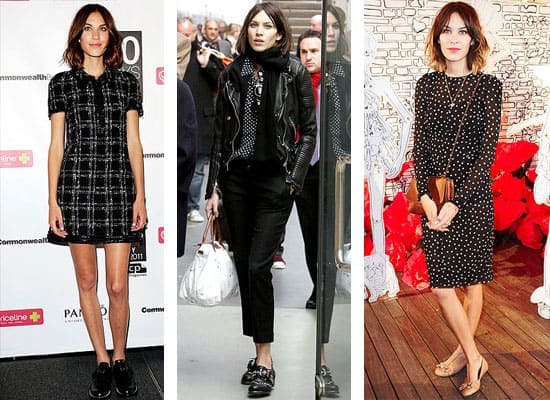 Credit: Lisa Maree Williams/Getty;  Marc Piaseck/FilmMagic; Lorenzo Santini/WireImage
As much as we all love a great pair of heels (I'm looking at you, Charlotte Russe booties!), they can only get you so far and only for so long. Follow Alexa's stylishly smart lead and don't be afraid to embrace flats! The more menswear inspired – loafers, brogues, even punky creepers – the better!

4. Flatforms by Tuk $69.95 from Solestruck 
5. Silver brogues $99.90 from Zara
6. Black classic penny loafers $78.99 by Bass & Co. from Shoes.com
Keep your accessories scarlet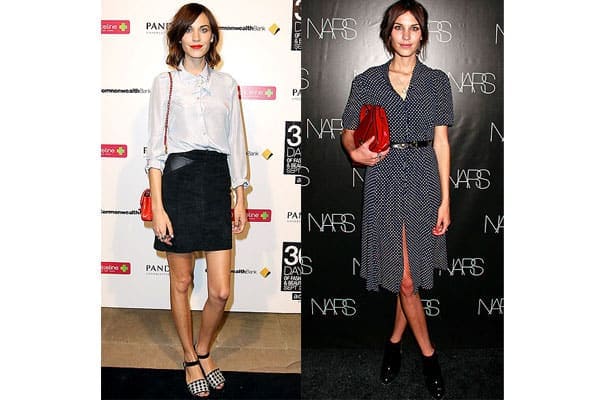 Credit: Mark Metcalfe/Getty; Gregory Pace/BEImages
Alexa has an eye for fashion (obviously) and with her, it's all in the details, specifically the red ones! What better way to give your outfit a pop than to add a touch of crimson? This is a great way to introduce color into your wardrobe, especially if you favor a neutral or monochromatic assortment (like Alexa). So, next time you're getting ready for a night out with that someone special, try a red lip, a red varnish on your nails or even pick up a red bag. It is one the colors of the season and, as far as we can tell looking ahead to spring, this (sometimes) scandalous color isn't going away anytime soon…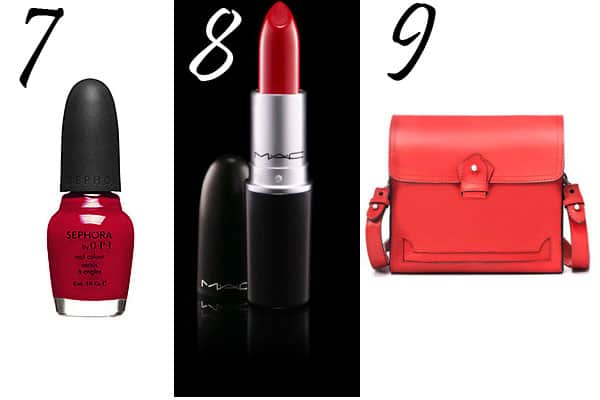 7. Red nail polish $9.50 from Sephora by OPI 
8. Red lipstick in "Russian Red" $17.50 from MAC 
9. Square leather messenger bag $99.90 from Zara 
Keep your bags small (unless they're named after you – see below)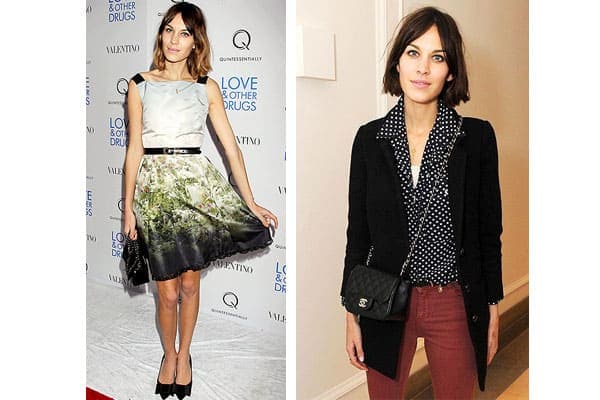 Credit: Dave Allocca/Startraks; Richard Young/Startraks
In these modern times, we all seem to be carrying our lives around with us on a daily basis. Smartphones, wallets, makeup bags, magazines, sunnies, snacks, gum, dental floss! That last one might just be me (I'm trying not to neglect my gums!), but whether or not you're trying to avoid that withering look from your dentist, we can probably all agree that it's time to stop the bag lady madness! Liberate yourselves by grabbing just your phone, some lippy and a card or two the next time you head out the door. Alexa's not afraid to keep it light in the bag department and you shouldn't be either!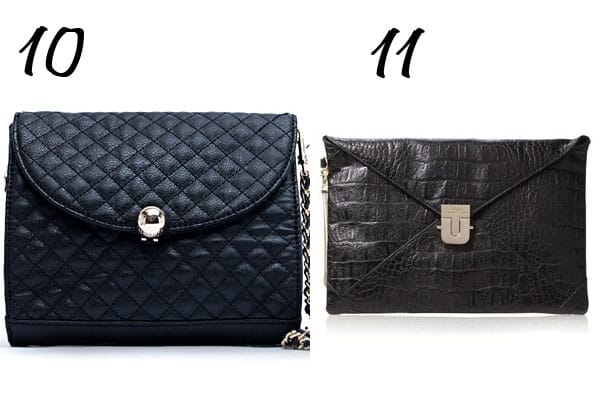 10. Quilted messenger bag $59.90 from Mango
11. Faux croc clutch $98 from French Connection
Keep your shorts short! (and of the denim variety)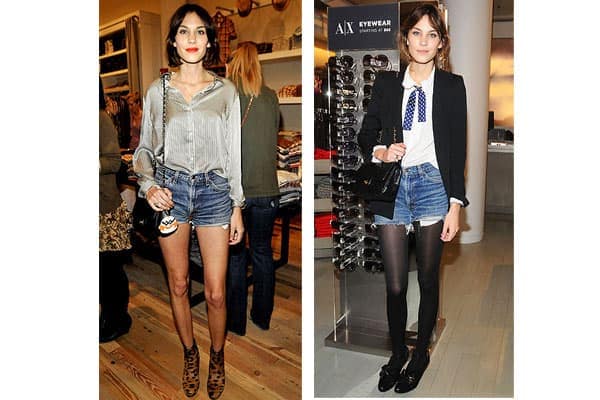 Credit: Ben Gabbe/BFAnyc/Sipa; Albert Michael/Startraks
One of the greatest things about Alexa's look here is that she takes the look from summer into fall and even dead ahead into winter! All you need is a great pair of denim cutoffs and solid pair of black tights.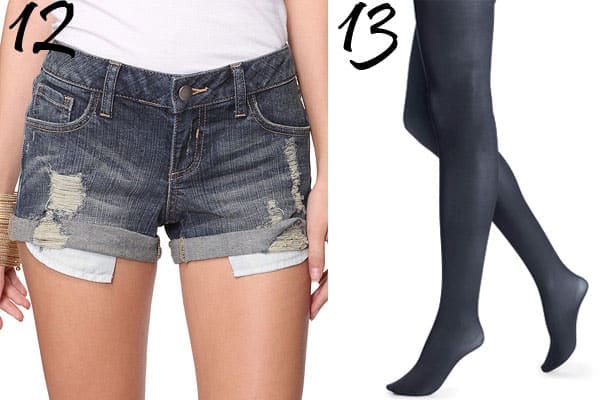 12. Denim shorts $19.80 from Forever 21 
13. Black opaque tights $13.50 or two for $22 from HUE 
Oh! And have a bag named after you!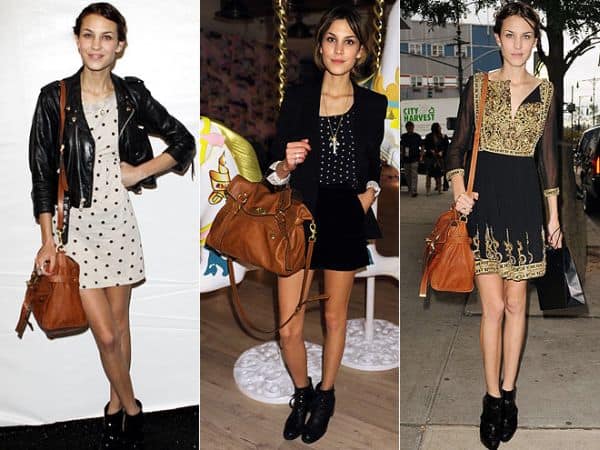 Credit: Buxo/Splash News Online; David Miller/Abaca; Callahan/Acepixs
Few of us will ever be honored by having a bag named after us and a designer one at that, but if you swoon over Mulberry's "Alexa" there are some great alternatives out there. Top-handled satchels are uber practical and this cognac version will fit conveniently into anyone's wardrobe. It's the perfect go-with-everything classic carryall!