This content may contain affiliate links. Please see our disclosures for more information.
9. Scarface – Costume designer Patricia Norris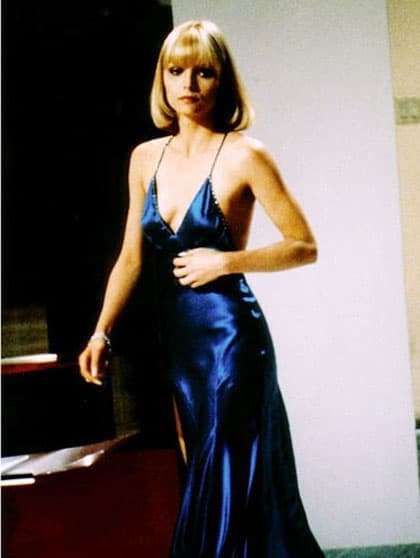 Michelle Pfeiffer in Scarface
With her relentlessly plunging necklines, perfectly banged bob and shiny red lips, Michelle Pfeiffer's Elvira Hancock has style for miles. Still referenced today in magazine spreads and by celebs alike (remember Rihanna's red carpet look from this year's Grammys?), the character's entire look is glamorous and chic, with an edge. The movie may be a titch on the violent side, but it's Elvira's ensembles that are truly killer.
10. Sex and the City – Costume designer Patricia Field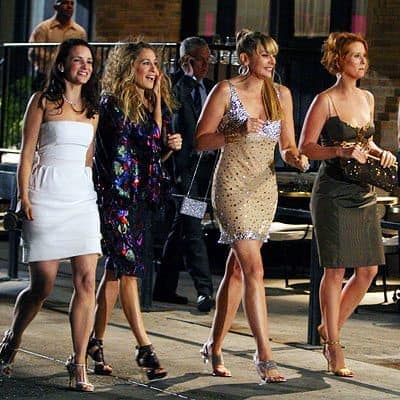 The ladies of Sex and the City
It's no surprise that after its reign as the most fashionable show on television, that SatC the Movie would be assured a place on this list. We tuned in to the TV show so we could see not only what was happening in their love lives, but even more so to see what the girls would be wearing. SatC was fashion forward and inspired many a trend, from the nameplate necklace, to the oversized flower pins to the never-ending parade of luxury shoes; we loved them all (even when we hated them). And when the fab four hit the big screen, we were there to see every dress, every accessory, and every dshoe. Natch.
BONUS – 11. Pret-a-Porter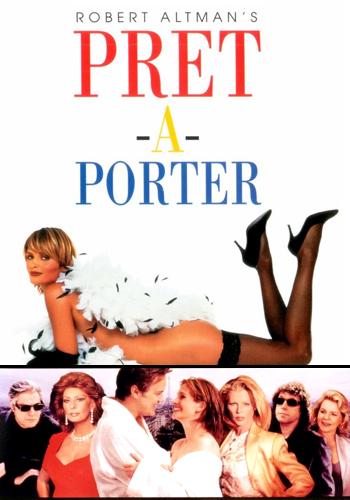 Costume designer Catherine Leterrier with Jean-Paul Gaultier, Sonia Rykiel, Christian Lacroix, Thierry Mugler, Robert Altman's foray into the world of fashion may have struck some people as a little too avant garde, but there's no question that this is one of the great movies about the industry. Smart and at times irreverent, it is a look at fashion through the eyes of one of cinema's all-time great directors.
Though some may consider Breakfast at Tiffany's to be the quintessential fashion film, we think that, like most great collections of any art form, all these movies offer us such great fashion moments as a collective, as opposed to one being the clear ultimate fashion film. Like fashion itself, all these films feed off each other, the older ones inspiring the newer ones and the newer ones showcasing the older ones in a new light, from a modernized perspective. So, why not get your friends together for a fashion film festival? Your closet (and quite possibly your soul) will thank you!